Involving, engaging, entertaining... singing!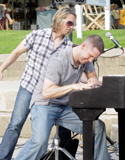 Dueling Pianos is a growing popular concept nationally, but the best in the country is right here with Sioux Falls Dueling Pianos. Right here in Sioux Falls, we are a subsidiary of 176 Keys Dueling Pianos, widely acknowledged to the best traveling dueling pianos show in the country. However, 176 Keys has roots right here in South Dakota, with family in Aberdeen and Rapid City, and one of the top players on our team from here in Sioux Falls. Playing in and near home means fun for us, and savings for you. Go to our dueling pianos reviews of many kinds of functions here in the Dakotas, such as private parties, weddings, and corporate events including in Aberdeen, Sioux Falls, Grand Forks ND, Minot ND, Rapid City, Roseau MN, Fargo ND, and others. The best traveling dueling pianos show is right here, and for the best prices you can find from any legitimate company: Sioux Falls Dueling Pianos, Sioux Falls' easy choice.
Featured Review
I want to thank you guys for the job well done. The feedback we got was that this was the best x-mas party so far and everyone had a blast! It was an awesome show and I hope we can do business again with you guys. Thanks for all your help!